The Main Screens
Rhythm Lab has four main screens, and a fifth "info" screen.
Tap Screen
The Tap Screen is accessed by the far left bottom tab bar item. This is the main screen where you tap or listen to rhythm patterns. All rhythm patterns in Rhythm Lab are organized into scrollable sets. A rhythm pattern set can have as few as one pattern up to an unlimited number of patterns. Most built-in pattern sets contain between five and fifteen patterns.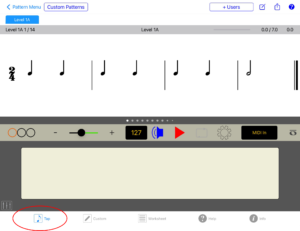 Custom Screen
The Custom Screen is accessed by tapping the second tab bar item. This screen allows you to create or copy just about any rhythm pattern you can think of. You can copy an existing pattern and alter it, create a completely new pattern from scratch, or generate a new random pattern. Patterns created on the Custom Screen can be saved as draft patterns, or can be added to a new or existing custom pattern set to allow tapping on the Tap Screen. Once saved to a pattern set, custom patterns are immediately available for tapping on the Tap Screen.
Worksheet Screen
The Worksheet Screen is accessed by tapping the third tab bar item. Here you can create printable, shareable worksheets using patterns from the Tap Screen or Custom Screen. Both the Tap Screen and Custom Screen allow capturing any tap pattern and providing the image to the Worksheet Screen (in Edit mode) to be added to a worksheet. The worksheet can then be exported as a PDF file.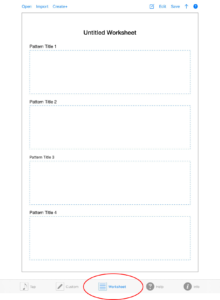 Help Screen
The Help Screen links to the Rhythm Lab website documentation (the documentation you are reading now).